What is Windows Update?
Posted in Articles, Business, Home Users, Tutorials, Windows on
In order to help keep your PC safer and running smoothly, it is important to update your Windows. Once you run the Windows Update(s), you will receive the latest security and other important updates from Microsoft automatically.
The Windows Update is a service that is provided by Microsoft. The service provides updates for  Microsoft Windows operating systems and its installed components which includes Internet Explorer updates. Any update provided by Microsoft includes security updates or critical updates important for eliminating threats of Malware and other security exploits; additionally, it is also responsible for creating updates that improve functionality and correct errors on your operatins system.
Locating Windows Updates
In order to check for Windows Updates, go to Start then click on Control Panel as shown below:
Once you have selected Control Panel, you will see a screen that looks like the following: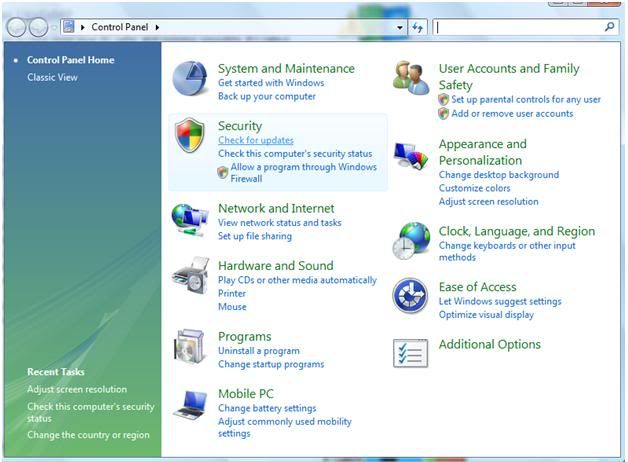 Now you have to select Check for updates, under the Security option. Once you have done so, the following screen will appear: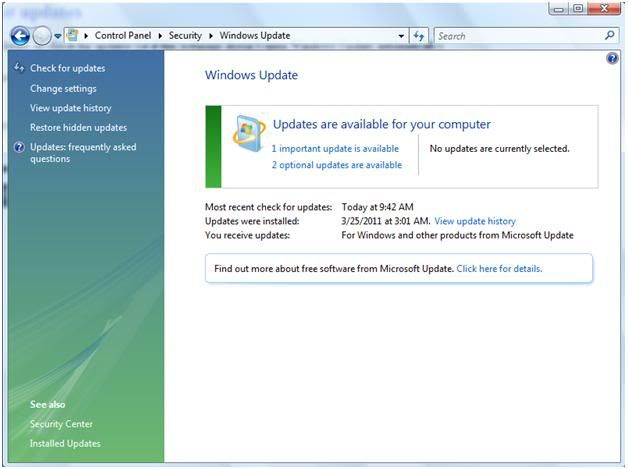 In the screen above, you are now able to view and select the available updates for your PC. As seen above, you can also view when your most recent check for updates was, prior to this tutorial, when the last updates were installed and information pertaining to what you received as recent updates.
about the author
More about Megan Scheuher:

Megan Scheuher is a 20 year old student at Western Michigan University, graduating in June of 2011 with a focus in Electronic Business Design. She enjoys long walks on the beach and amusement parks. There is nothing better to her than spending time with loved ones and her Husky/Malamute mix puppy, Duke.
questions or comments?
If you have any questions or comments about this article, feel free to contact us!
talk back! questions/comments, and feedback. keep it polite, please